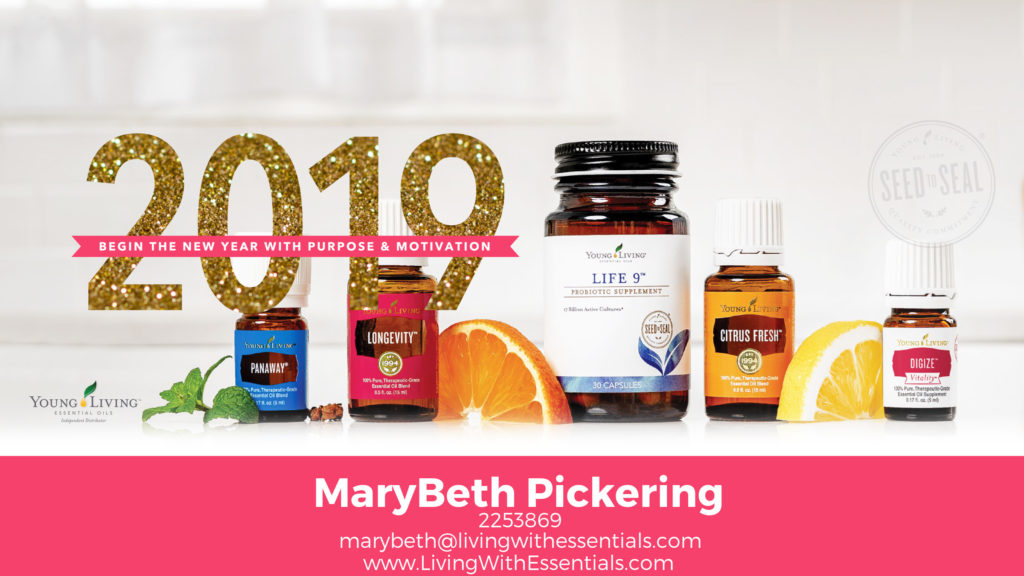 Start off your new year with a sense of purpose and motivation with a bundle of uplifting, wholesome products with the Young Living January 2019 PV Promo! With your qualifying order this month, you'll receive a 5 ml bottle of PanAway® essential oil—a stimulating, invigorating blend to apply after your energizing workout. After working out to boost your mind and spirit, keep the positive energy flowing! We're also including a 15 ml bottle of Longevity™ essential oil blend, so you can treat your skin to freshness, too! You'll also receive Life 9®, a potent probiotic that can support your healthy immune system* as you take on new challenges; Citrus Fresh™, a cheerful blend of essential oils with a positive aroma to brighten your efforts; and DiGize® Vitality™ to add a splash of wellness support to your morning tea!
Reach any of the following PV minimums with your January order to receive the following Young Living products for free:
300 PV- Retail Value $174.02
5 ml PanAway®: Start your morning strong. Soothe your muscles after yesterday's workout with the cooling, stimulating sensation of PanAway and get ready to hit the ground running again today! Get invigorated. Use this proprietary blend with V-6™ Vegetable Oil Complex in a supercharged neck and shoulder massage.
15 ml Longevity™: Take a fresh approach. Add Longevity to your morning skin care routine to promote youthful-looking skin. Let your look match your outlook. Give your skin care routine a refreshing boost by mixing this essential oil blend in your skin care products.
Life 9®: Practice whole-life wellness. Take Life 9 to support healthy digestion—every part of your body needs comfort and care! Maintain your wellness. Working toward your goals comes easier when you feel your best. Take Life 9 daily to support your healthy immune system.
Bonus Essential Rewards 15 ml Citrus Fresh™: Embrace the moment. Accept new opportunities with a positive attitude! Create a focused environment each morning with a burst of Citrus Fresh aroma in your diffuser. Surround yourself with fresh vibes and keep uplifting aromas everywhere! Add a few drops of Citrus Fresh to water and spray on linens and laundry for its fresh, invigorating scent.
Bonus Essential Rewards 5 ml DiGize® Vitality™: Boost your body. More night owl than morning person? Wake up, get moving, and add DiGize Vitality to your herbal tea with honey to support your digestive system. Travel wise. Hitting the road in the new year? Use DiGize Vitality as a supplement when you're giving new foods a go.
250 PV- Retail Value $126.32
15 ml Longevity™
Life 9®
Bonus Essential Rewards 15 ml Citrus Fresh™
Bonus Essential Rewards 5 ml DiGize® Vitality™
190 PV- Retail Value $77.96
Life 9®
Bonus Essential Rewards 15 ml Citrus Fresh™
Bonus Essential Rewards 5 ml DiGize® Vitality™
100 PV- Retail Value $18.42
Bonus Essential Rewards 5 ml DiGize® Vitality™
Want to begin the new year with purpose and motivation with the Young Living January 2019 PV promo but don't know where to begin?
To get your promo, meet the above PV this month and earn them. Please note that "Bonus Essential Rewards" means you have to be a part of Essential Rewards to earn these.
---
Not already a Young Living Member? Find out how you can get the Young Living January 2019 PV Promo!
Next you will want to join Young Living's reward program called Essential Rewards. Every family's needs are different so here you can customize your products so they fit your family. I truly believe transforming your life to a healthier lifestyle should start with your nutrition. Young Living offers both daily essentials as well as targeted nutrition. If you are looking for an all natural makeup line without all the yuck, you might want to check out the Savvy Minerals line. If you have children, you might find some new favorites with the KidScent line. Don't leave out the baby with Young Living's baby line, Seedlings. Perhaps you have some "fur kids" (pets) that will enjoy the AnimalScents line. In addition to your family's nutrition and personal care, you can also make your home more green by switching out commercial cleaners to a natural alternative Thieves Household Cleaner!
That's it! You will have the 100PV from the Premium Starter Kit plus the PV of any additional products ordered through Essential Rewards.
If you are just looking to add 200 PV to your 100PV from the Premium Starter kit, I highly recommend the NingXia Red Essential Reward kit and a bottle of the Thieves Household Cleaner.
If you go with the Premium Starter Kit, NingXia Red Essential Rewards, and a bottle of Thieves Household Cleaner you will get these essential oils…
Lavender 5-ml
Peppermint Vitality 5-ml
Lemon Vitality 5-ml
Copaiba Vitality 5-ml
Frankincense 5-ml
Thieves Vitality 5-ml
Citrus Fresh 5-ml
Raven 5-ml
DiGize Vitality 5-ml – (You will actually get 2 of these since one comes with the promo this month)
PanAway 5-ml
Stress Away 5-ml
Citrus Fresh 15-ml
Longevity 15-ml
Plus…
Life 9 – 30 ct.
NingXia Red: 4 – 750 ml bottles and 32 – 2 oz. pouches. That equals 164 ounces which means you get 82 days worth of the daily recommended 2 oz servings!
1 bottle of Thieves Household Cleaner plus a sample. This will be the only household cleaner you will need. It is very concentrated it will last a really long time since you only use a capful or so for most recipe dilutions!
A diffuser to really make the most of your essential oils. There are different options so your choice of diffuser might change the estimated total.
With this combination, you will be at the 300 PV total so you can get all the freebies for a total around $369 plus tax and shipping depending on which diffuser you go with for the Premium Starter Kit. This is such an awesome value and what better to invest in other than your health and the health of your family!
In addition to the products mentioned above, you also get a 24% discount on anything you need to order as long as you keep your wholesale account. You will be part of a community that truly values their health and willing to help each other along their oily journey. And last but not least, you have the OPTION to help with your family's finances by sharing oils with others if you choose to build a business with Young Living.

---
SUBSCRIBE TO MY MONTHLY NEWSLETTER FOR THE LATEST INFORMATION AND PROMOTIONAL OFFERS!
I hate SPAM and will protect your privacy. You can easily unsubscribe at any time!