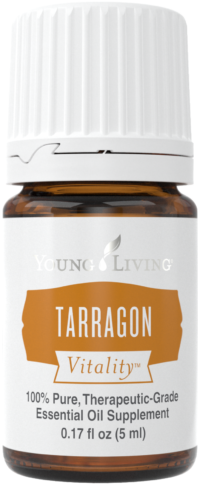 Tarragon is considered one of the four key seasoning ingredients in traditional French cooking. Native to southern Europe, Tarragon Vitality is steam distilled from the leaves of the plant and features a distinctly strong, herbaceous flavor.
Tarragon Vitality goes well with fish, meat, soups and stews and is often used in tomato and egg dishes. Add a tiny drop of Tarragon Vitality to any of your favorite French dishes and be prepared to be amazed!
For topical and aromatic uses, check out Tarragon Essential Oil.
How to Use Tarragon Vitality Essential Oil
Add Tarragon Vitality to seafood, poultry, eggs, and vegetables to enjoy its sophisticated, complementary flavor.
Pair with Lemon Vitality to complement your favorite savory dishes and sauces, such as béarnaise.
Dilute 1 drop Tarragon Vitality with V-6 Vegetable Oil Complex and take as a dietary supplement to support a focused and active lifestyle.
These statements have not been evaluated by the Food and Drug Administration. This product is not intended to diagnose, treat, cure or prevent any disease.
Ingredients
100% pure, therapeutic-grade Tarragon (Artemisia dracunculus) leaf essential oil.
*Information obtained from Young Living*