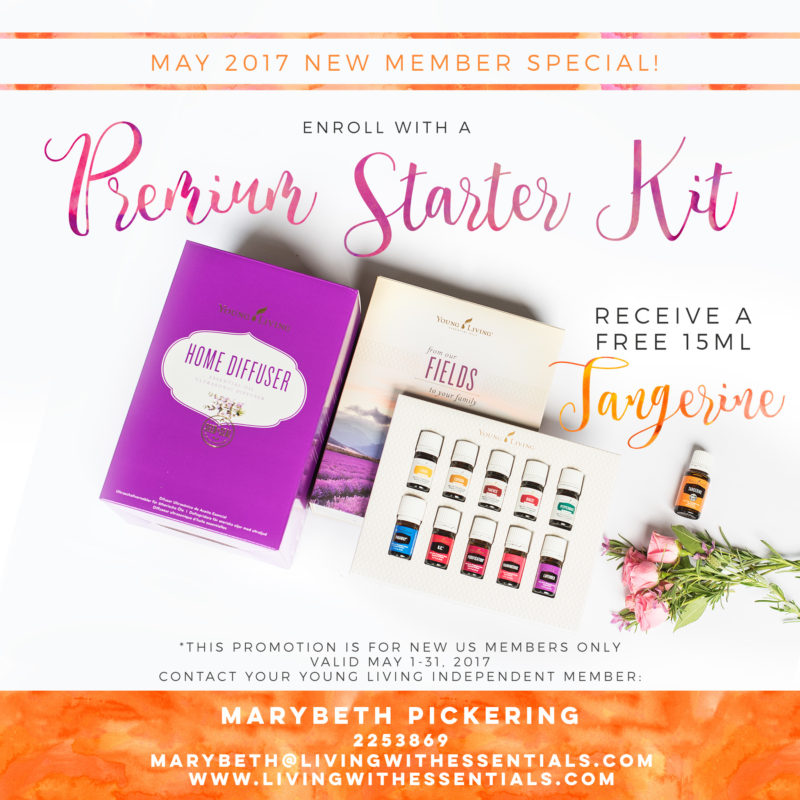 If you are brand new to Young Living, this promo is just for you! To get started with essential oils and get your free bottle of Tangerine Essential Oil, choose one of the Premium Starter Kits (as shown below) when you become a member.
The Premium Starter Kit with Diffuser is a great choice if you want the best all around kit. You get 11 bottles of essential oils, 2 samples of NingXia Red, and your choice of diffusers. Of the 11 essential oils, 5 are known as Vitality essential oils, which means they can become a part of your daily dietary supplements. With this kit, you have oils that you can use topically on your skin, breathe in with the help of a diffuser, and use internally (thanks to the Vitality essential oils as well as the 2 samples of NingXia Red).
The Premium Starter Kit with NingXia is for those of you who are serious about your health.  You can integrate essential oils as part of your daily supplements through this potent, high antioxidant drink. You would get a single bottle of Stress Away Essential Oil with this kit as well.
The Premium Starter Kit with Thieves is great for really taking care of the chemical toxins in your home. With the help of these all-natural cleaners and the power of Thieves, you will be replacing hand soaps, hand sanitizers, toothpaste, mouth wash, and household cleaners all at one time. You will also be able to enjoy Thieves Essential Oil and Stress Away Essential Oil.
CHOOSE A KIT…
​…AND RECEIVE…
Tangerine 15-ml – Free with the purchase of any Premium Starter Kit as a New Member.
Tangerine oil is loved by children and adults alike, with its delightfully sweet aroma that can create a happy, contented mindset. Use its cleansing benefits in your morning skin care routine for an added boost or apply it to your temples before study time or meditation. Diffuse at work or at home to infuse your space with a sweet, refreshing aroma. Create a DIY air freshener by combining 30 drops of oil with 2 cups of water in a glass bottle. Spray around the house for a fresh, clean scent.
Learn how to become a Young Living member to take advantage of this special offer!
---
SUBSCRIBE TO MY MONTHLY NEWSLETTER FOR THE LATEST INFORMATION AND PROMOTIONAL OFFERS!
I hate SPAM and will protect your privacy. You can easily unsubscribe at any time!