Enjoying the many benefits of using essential oils is great but being able to take advantage of promos when you place your order is even better! The Promo mentioned below is only available to Young Living Members so if you are just getting started with essential oils or are already a Young Living Retail Customer, head over to How to Order Essential Oils to learn how you can be a Member and take advantage of these benefits.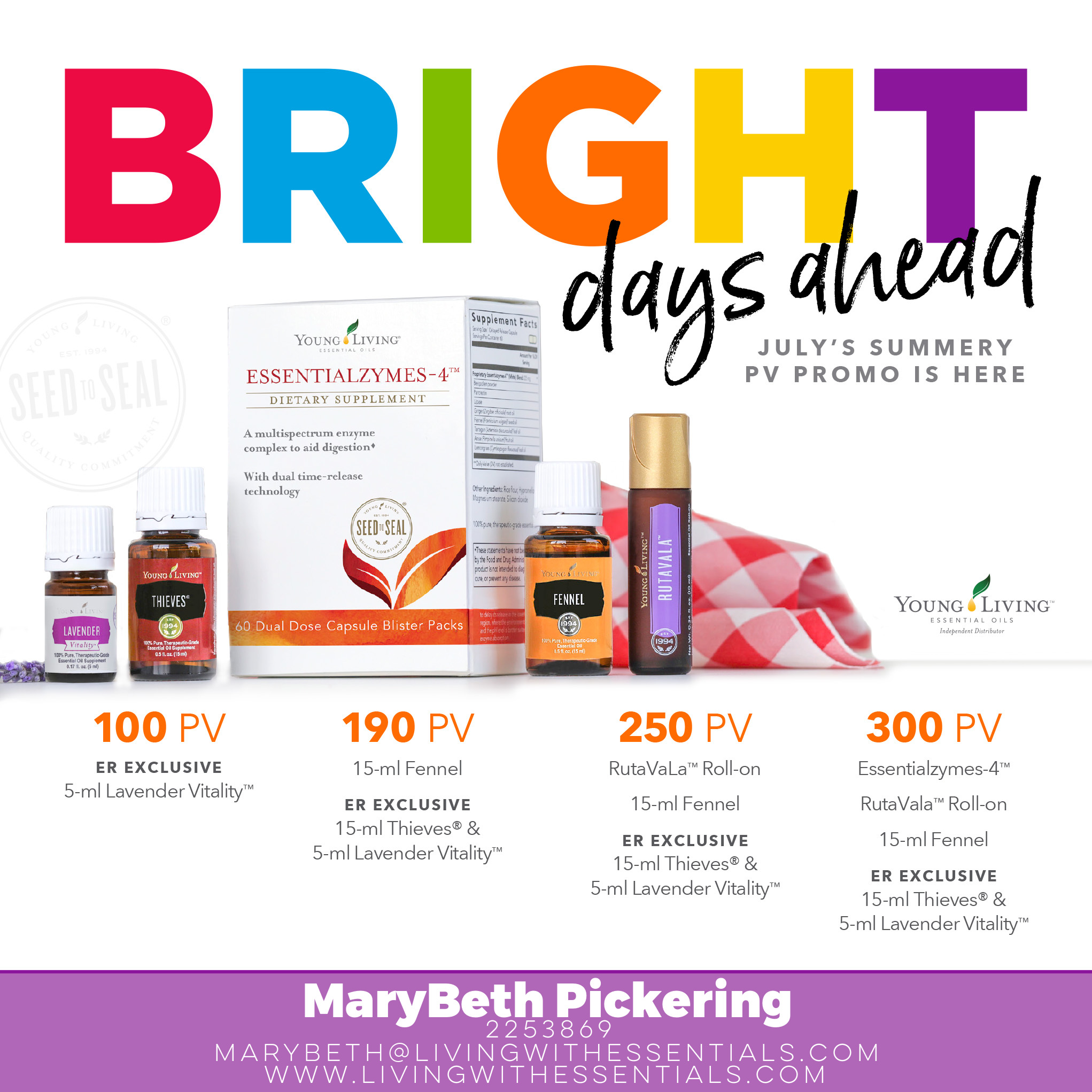 Learn what PV and ER Exclusive mean here.
July 2017 PV & ER Promos
~ER Exclusive~ Lavender Vitality 5-ml 100 PV
Use Young Living Lavender Vitality essential oil to create elegant dishes that will impress your family and friends. The herb has a sweet, slightly floral flavor that pairs well with both rich and light foods. Use Lavender Vitality™ essential oil to conveniently add this delightful flavor to your meals.
Fennel 15-ml 190 PV
Fennel has a rich aroma reminiscent of anise, which gives Fennel oil its licorice-like scent. Although the seeds and oil are used in flavoring, fennel's complex aroma has also made it popular in soaps, candles, and perfumes.
~ER Exclusive~ Thieves 15-ml 190 PV
Thieves Essential Oil is a powerful combination of Clove, Lemon, Cinnamon, Eucalyptus Radiata, and Rosemary essential oils for an aromatic blend making it an essential in home cleaning and personal care products.
RutaVaLa Essential Oil Roll-On 250 PV
RutaVaLa Essential Oil Roll-On utilizes a proprietary blend of Ruta, Lavender, and Valerian essential oils for a calming, relaxing scent that creates a feeling of emotional balance.
Essentialzymes-4 300 PV
Essentialzymes-4 is a multi-spectrum enzyme complex specially formulated to aid the critically needed digestion of dietary fats, proteins, fiber, and carbohydrates commonly found in the modern processed diet.

.
---
What does PV and ER mean?
PV is a term used to identify the product value. When you add a product to your cart you will see both your cost for the product as well as the PV value. The PV value is usually equal to the product cost. You will sometimes notice a difference in the cost and the PV on some items. When looking at the monthly PV qualifications, be sure to look at the actual PV of the products you are ordering and not the cost.
ER Exclusive means that you have to be a part of the Essential Rewards Program to qualify for these particular items in addition to the PV. To find out more about the Essential Rewards Program click here.
---
SUBSCRIBE TO MY MONTHLY NEWSLETTER FOR THE LATEST INFORMATION AND PROMOTIONAL OFFERS!
I hate SPAM and will protect your privacy. You can easily unsubscribe at any time!