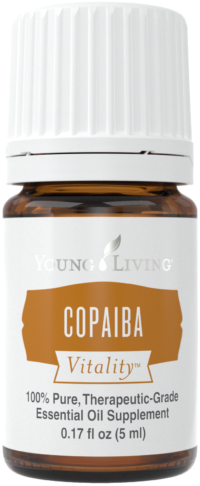 Copaiba Vitality Essential Oil is made with the gum resin tapped from the copaiba tree native to Brazil and is known for its beta-caryophyllene content and sweet aroma. Copaiba Vitality has a pleasant, complex taste, and when taken internally, it can promote wellness. Add Copaiba Vitality to a clear vegetable capsule and take daily as an important part of your health regimen. You can also try adding a drop or two of Copaiba Vitality to your herbal tea, such as chamomile or rooibos, to enjoy its complex, soothing flavor.
For topical and aromatic uses, check out Copaiba Essential Oil.
How to Use Copaiba Vitality Essential Oil
Directions: Put 2 drops in a capsule. Take 3 times daily or as needed.
Caution: Keep out of reach of children. If you are pregnant, nursing, taking medication, or have a medical condition, consult a health care professional prior to use.
Storage: Keep in a cool, dark place
These statements have not been evaluated by the Food and Drug Administration. This product is not intended to diagnose, treat, cure or prevent any disease.
Ingredients
100% pure, therapeutic-grade Copaiba (oleoresin) (copaifera officinalis) wood essential oil.
*Information obtained from Young Living*